HOTEL SUN CHLORELLA is located within walking distance of Kyoto Station, near "Umekoji Park", a large urban park covering approximately 13.7 hectares. Nearby attractions include the Kyoto Aquarium and Kyoto Railway Museum, making the place ideal for families with children. This accommodation is conveniently located in the center of Kyoto to easily access various sightseeing spots around the city.
The facility features traditional ambience of Kyoto with spacious guest rooms for up to 4-5 people. Some rooms come with king-size beds and raised tatami area, offering comfortable stays for families with children. The building is made of reinforced concrete, making the rooms soundproof. 24-hour ventilation system is installed in the guest rooms and common areas to ensure that the air is always clean and fresh. Each guest room comes with a kitchen and a two-door refrigerator, making it suitable for long-term stays.
On the first floor, there is a Taiwanese cuisine restaurant and a cold pressed juice shop. Feel free to explore the meal options as you please.
Please stay with us to make unforgettable memories and experience the beautiful seasons of Kyoto.


1st floor / Whole Deli

At "Taiwanese WholeDeli," you can enjoy authentic Taiwanese cuisine developed by a Japanese chef who studied at a starred Chinese restaurant and a chef who came to Japan from Taiwan.
It features the taste using spices and Chinese herbs well, and the delicate taste for Japanese people. The Taiwanese chef whose parents are Chinese herbalists uses spices well and adds the depth to the cuisine.The restaurant is kid-friendly with kid's free menu and a diaper changing space.
We recommend to reserve in advance!

1st floor / Whole Juice

Taiwan Winter Melon Tea Specialty Store, which has been renewed since March 2023, is a take-out shop where you can enjoy the gentle Taiwanese drink.
The simple brown sugar drink, made by simmering winter melon and brown sugar for a long time, is caffeine-free and loved by both children and adults.
Also, the menu offers many variations, such as lemon sorbet and drink with milk.

Amenities for children in all rooms. You can also rent goods for babies!

We provide children's tableware, toilet seats, and step stools in all rooms to ensure a comfortable stay with your children.
We also offer a rental service for cribs for 4,000 JPY per stay (tax included). The bed and futon, as well as bed-wetting sheets, baby bath, highchair, and baby chair are included for a comfortable stay with your babies or children.
Please check here for the details about the rental service.
Kyoto Station and Umekoji area

On the first floor of the facility is a Taiwanese restaurant and a cold pressed juice shop, and in the neighborhood you can find Chinese food, Okonomiyaki, Izakaya bars, sweets shops and many other places worth stopping by.
Umekoji Park boasts unique events such as handcraft markets and illuminations, as well as seasonal trees and plants.

Fresh ingredients for purchase

The Kyoto City Central Wholesale Market sells a large collection of fresh ingredients from Japan and overseas every day for reasonable prices.
Food is inspected and monitored by professionals with expertise in hygiene, to provide consumers with a stable supply of safe and fresh products.
Each of our rooms is equipped with a kitchen, refrigerator, cookware and tableware, so that guests can cook and enjoy meals on their own.

Easy access to universities, high schools and middle schools

The facility is located close to Ryukoku University, Heian High and Middle School, and Rakunan High and Middle School, making it a convenient place to stay for examinations.
While offering an excellent environment for examinations, it is great for short solo stays as well as long stays with family and friends,
2020.7.22

Customers booked at Hotel Sun Chlorella can now purchase Kyoto Aquarium tickets with a 10% discount at the RESI STAY reception counter.
Address
416-2 Kamino-cho, Shimogyo-ku, Kyoto city, 600-8266
Access
Kyoto city bus "Nanajo Omiya, Kyoto Suizokukan-mae (Kyoto Aquarium)"・・・1 mins walk
JR Line "Umekoji Kyotonishi station" ・・・8 mins walk
JR Line / Subway Karasuma Line "Kyoto station" ・・・13 mins walk
Parking lot
           
There's no parking lot. Please kindly park your car at a coin parking space nearby.
Number of rooms
15 rooms in total
Tel
+81-75-353-7744
Check-in
15:00
Check-out
11:00
Meal
Breakfast available (additional charge)
Payment method
Bank transfer, Paypal, Credit card
Facilities
Elevator, Smoking allowed in the smoking area only, Wi-Fi, Luggage storage
Open
July 2020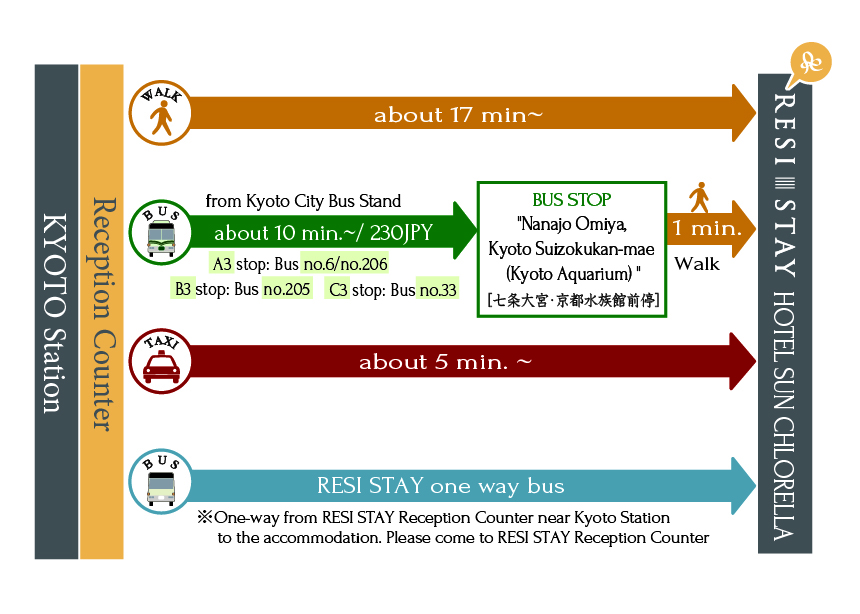 Kyoto city bus "Nanajo Omiya, Kyoto Suizokukan-mae (Kyoto Aquarium)"・・・1 mins walk

JR Line "Umekoji Kyotonishi station" ・・・8 mins walk
JR Line / Kintetsu Line / Subwway Karasuma Line "Kyoto station" ・・・12 mins walk