Round when viewed from above, gently and beautifully curved when viewed from the side.
"owan" (a Japanese soup bowl) is something you can easily hold in one hand.
With its colors and faces which change in keeping with the soups, stews, and other foods it holds,
"owan" is the concept at the heart of this accommodation.
We have eight types of room, each brimming with individuality, and each based on a different kind of "owan".
With traditional Kyoto crafts, such as Nishijin fabric, featured in the practical interiors of our rooms,
you can feel the Kyoto sense of beauty during your stay.
Located near Kyoto's main street, Shijō Street, and within walking distance of popular sightseeing spots,
including the World Heritage Sites "Nijō Castle" and "Nishiki Market".
In addition, the Karasuma subway line, the Hankyu Kyoto railway line, and the Tōzai subway line are all easily accessible.
Deeper than a regular bowl, and retaining the warmth of its contents, "owan".
A space that welcomes you with the warmth of a true "owan", ensuring a stay that will live on in your heart.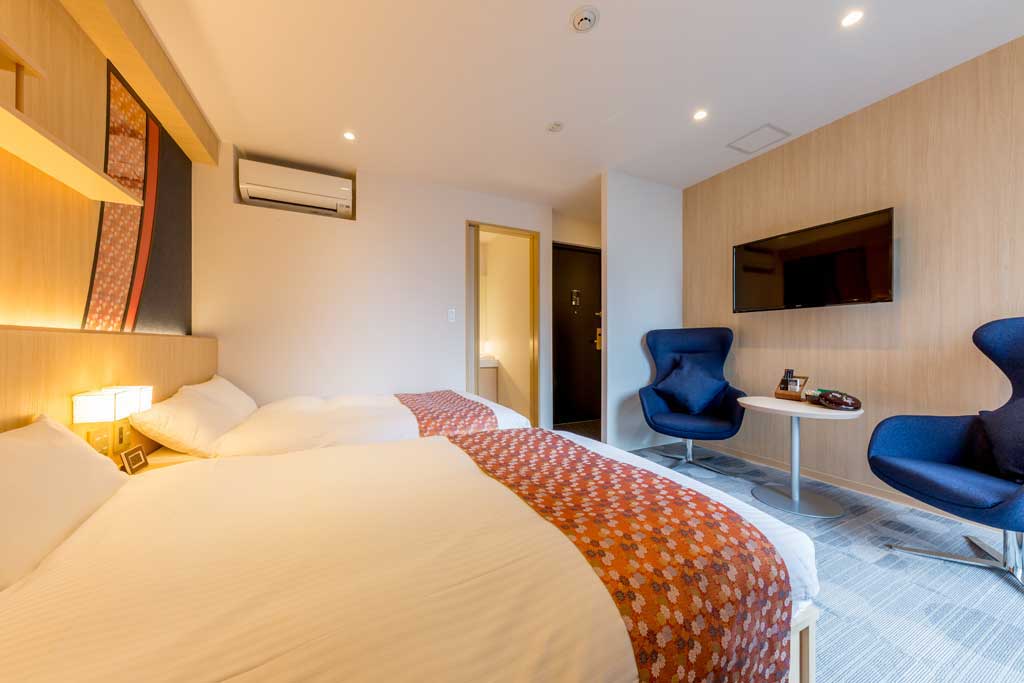 A variety of interesting rooms to stay in…

[O-wan] This accommodation has rooms that meets the needs for couples, groups, and families, each with its own motif of various and colorful o-wan (Japanese decorated bowls) that will catch the eye!

O-wan and Nishijin Textiles: Classic Kyoto

[O-wan] Traditional and highly decorated bowls used through Japanese history
The interior of RESI STAY Owan is based on o-wan, traditional bowls that have different functions and decorations, these colorful decorations adorn the walls of each room.
A traditional handicraft of Kyoto, Nishijin textiles, are decorating the room and guests can come up close up personal to these textiles they can better understand Kyoto and Japan.
Address
306, Echigo Tsukinuke-cho, Nakagyo-ku, Kyoto City, Kyoto, Japan
Access
Kyoto city bus, "Horikawa Takoyakushi" ・・・ 3 mins walk
Subway Karasuma Line, "Shijo" station, Exit No.24 ・・・ 11 mins walk
Hankyu Railway, "Karasuma" station, Exit No.24 ・・・ 11 mins walk
Parking lot
There's no parking lot. Please kindly park your car at the private parking space nearby.
Number of rooms
19 rooms in total
Tel
+81-75-353-7744
Check-in
15:00
Check-out
11:00
Meal
Not available
Payment method
bank transfer, Credit card, Paypal
Facilities
Elevator, Smoking allowed Smoking space only, Wi-Fi, Shared laundry, Luggage storage
Open
December 2017
Kyoto city bus, "Horikawa Takoyakushi" ・・・ 3 mins walk

Subway Karasuma Line, "Shijo" station, Exit No.24 ・・・ 11 mins walk
Hankyu Railway, "Karasuma" station, Exit No.24 ・・・ 11 mins walk